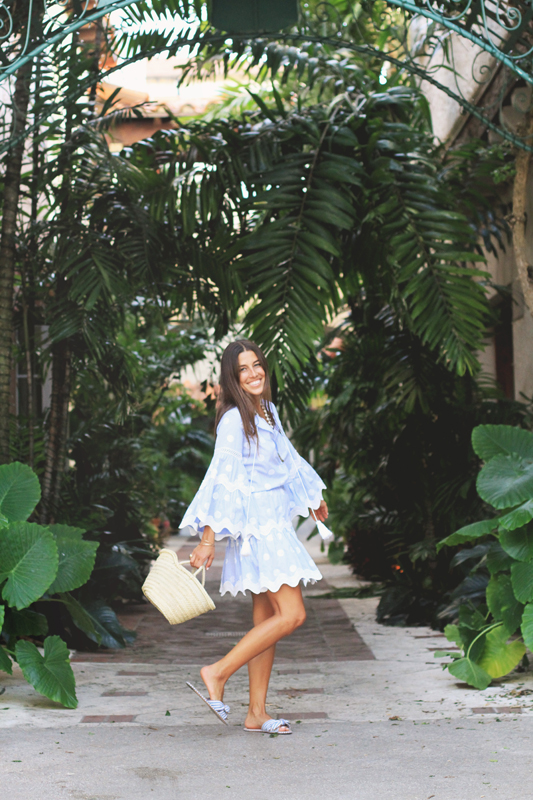 In my honest opinion, quintessential Palm Beach aesthetic and Allegra Fanjul Garcia-Velez are synonymous with one another. No one nails tropical style quite like my friend Allegra compliments of her keen eye for fashion, affinity for brazen colors, love of layering accessories, permanent tan and Cheshire cat smile. She's also the sweetest gal ever — making this natural beauty a magnetic force and really easy to hang around with, too. 
When not creating  her handmade beautiful baubles, VeryAllegra, you'll find the Palm Beach-based Jewelry Designer & Blogger active within the philanthropy community, spending time with her hubby Cachi and black Labrador retriever Charlie, traveling to de rigueur spots such as Casa de Campo, Capri and the Hamps, cooking clean eats, reading or working out. Without further ado, here are LEGS' musts in her own words…
Current handbag on rotation: Currently none because of this quarantine but I can't wait to use my Celine Nano Bucket Bag again! 
Handbag you are eying to purchase next: A classic tan Chanel Jumbo quilted bag has been on my list for awhile. 
Jeans: Levi's and Madewell are my current favorites 
T-Shirt: James Perse and LNA 
Swimwear: Solid & Striped and SAME swim 
Pajamas: Roller Rabbit 
TV Show: Currently catching up on Glee because I never watched it live and I'm obsessed
Mascara: Westman Atelier — even though I haven't worn in a month and a half! 
Book or Kindle: I love books but I love my kindle for how easy it is to finish a book and start the next right away. I also love that I can read in the dark without a book light bothering the hubs! 
Foundation: None 
Eyeshadow/liner: I don't usually wear but I love Westman Atelier super loaded tinted highlighter on cheeks and eye lids for a glowy look 
Lipstick/gloss: Charlotte Tilbury lipstick in shade "Bitch Perfect" and Burts Bees Chapstick
Blush: Westman Atelier Blush stick & Super Loaded Tinted Highlighter 
Bronzer:  Tom Ford in shade "Gold Dust"
Shampoo: Oribe Gold Lust 
Conditioner: Oribe Gold Lust 
Hair product: Beautycounter Split End Serum & Oribe Hairspray 
Salon: Salon Margrit & Paul Labroque 
Nails: My mom, sister and I have someone come to my mom's house every 3 or so weeks to do mani/pedis together. We love the time together.
Polish: ESSIE Gel Couture in "Matter of Fiction" 
Body moisturizer: Beautycounter lotion 
Face wash: Beautycounter Countertime Lipid Defense Cleansing Oil — I've been using an oil cleanser for the last year and love it! 
Facial moisturizer: Embryolisse Lait-Crème Concentré, Face & Body Moisturizer — you can get it on Amazon for $28 and it's just a great everyday moisturizer from France  
Facialist: Cass at Paul Labroque or Tammy Fender at Tammy Fender Spa 
Watch currently on your wrist: Rolex Submariner 
Fitness: Pilates, walking my dog, boot camps and tennis 
Athletic wear: Outdoor Voices and Lululemon 
Sneakers: Adidas Ultraboosts — my all-time favorites  
Lunch spot: Sant Ambroeus 
Fave dinner haunt: Imoto for sushi 
Sweet spot: Gelato at Sant Ambroeus
Book currently on your night stand: The Alice Network 
Fave book: Such a tough one! The Nightingale and Where the Crawdads Sing 
Annoying habit: I pick at my nails/polish if they aren't perfect  
Last meal on earth: Lunch at La Fontelina Beach Club in Capri 
I haven't been yet but dying to go here: Switzerland & Africa 
Travel spot: Italy and the Dominican Republic 
Fun fact: I started making and selling jewelry for charity at age 11! 
For my birthday, get me: A gift card 🤣
Palm Beach's best-kept secret: Would it be a secret if I told you?!