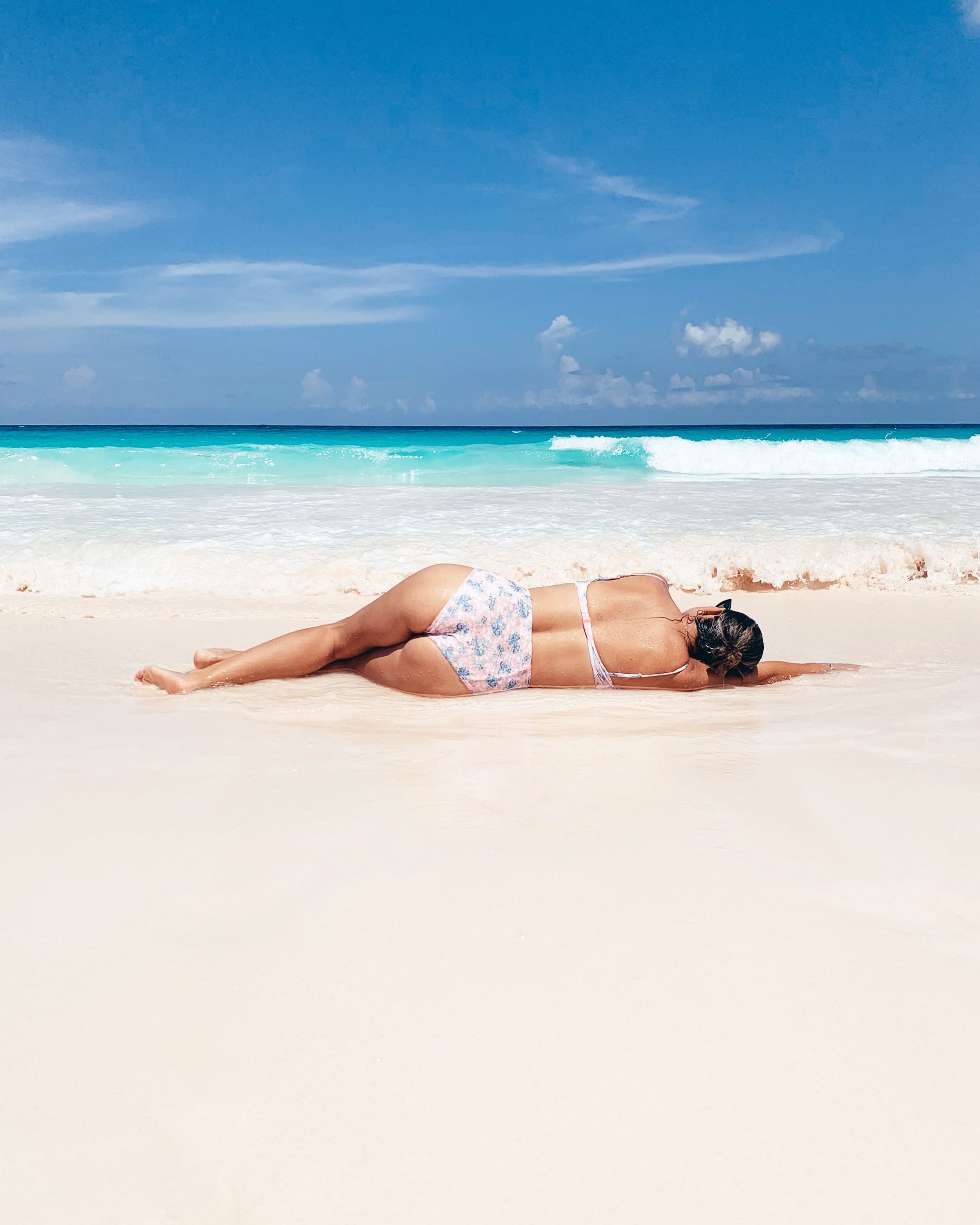 Those stretches of famed pink sand beaches! The swanky restaurants! The chicer-than-chic bungalows! The A-list celeb sightings! Harbour Island, Bahamas checks all the boxes when it comes the luxury travel in the Caribbean — and harkens the vibe and feel of chichi St. Bart's (another fave of mine). But there's still a rustic and homey feel here, which I love. 
Flyers can take a flight to North Eleuthera Airport from MIA and then hop on a swift 10-minute water taxi to Dunmore Town, Harbour Island — home of the Brilanders (the moniker locals call themselves).
Worth noting? There are few cars on the island, so you can easily bop around this bitty fleck of earth (it's 3.5 miles long) on golf carts to the below Wordy Girl-approved spots. So, without further ado (and the amazing help of my friend/local Kate Ingraham), here is THE definitive insider's guide to Harbour Island:
WHERE TO STAY (In order of my faves)
The Dunmore: I am unequivocally obsessed with the cabana stripe motif of this particular property. If I were to choose my favorite Harbour Island hotel, it would be this one compliments of its 1960s resort glam aesthetic and oceanfront bungalows. dunmorebeach.com
Coral Sands: We opted to stay here and loved the modern-yet-beach-y accommodations. Nestled next to the beach, the on-site restaurants did not disappoint, either. Also worth nothing? The property added two brand new 4-bedroom villas to their portfolio and they are b-a-n-a-n-a-s. www.coralsands.com
Ocean View Club: The Ocean View Club is a small and charming family run hotel and the atmosphere is more like that of a house decked out in Bahamian-boho-chicness. The property boasts an eclectic mix of accommodations — 5 cabins which includes tent cottages and three beach shacks and 7 rooms which vary in size. ilovetheoceanview.com
Rock House: The Rock House has been a vibrant and colorful fixture on Harbour Island since the 1940s. Originally a private home, it's now a luxury 10-room boutique hotel. Designed by J. Wallace Tutt, who created Versace's Miami mansion and Cher's Malibu home, the property melds colonial and contemporary Caribbean design. rockhousebahamas.com
Pink Sands Resort: Mere steps away from the famed pink sand beaches (thus the name) a gander at this property's oceanside cottages is absolutely spellbinding. pinksandsresort.com
The Landing: Another Harbour Island classic, this boutique-style hotel overlooks the harbour in the heart of Dunmore Town. The Landing's 13 guest rooms are designed and inspired by India Hicks in a classic plantation style with colonial inspired Caribbean influences. Worth noting? This hotel Is not located on the pink sand beaches. harbourislandlanding.com
SHOPPING
Shine: Scoop up silk caftans and the most beautiful handmade gold jewelry (think delicate stackable rings and bracelets for days). Owner Stephanie makes all by hand and is there daily. Also worth nothing? There's also an adorable home design space across the street.
Dake's Shoppe: Another island gem with pieces curated from around the world. Clothing, jewelry and home design. Can't miss. You'll also discover a highly Instagrammable moment compliments of the shop's hanging rainbow basket chairs.
The Sugar Mill Trading Co.: This is local celebrity/British royalty India Hicks' shop. Here, you'll find an eclectic mix of treasures found from India's travels around the world — everything from a $1,000 embellished evening caftan to a child's bucket and spade. 
Princess Street Gallery: Think unique arts and books. A purchase here is a great taste of the island to take back home with you.
Blue Rooster: This is the best place to find the perfect beach cover up. It's a long-standing favorite with island regulars.
BREAKFAST
Arthur's Bakery: Think yummy donuts, gooey pull-apart bread and flaky pastries — all made fresh daily. Arthur's is yet another favorite among the regulars.
The Landing: The freshly squeezed OJ and gooey French toast here is worthy of Instagram fame and beyond.
LUNCH
The Dunmore: While also spectacular for dinner, The Dunmore is also perfect for a relaxing lunch overlooking the beach. 
Coral Sands: Order up a basket of piping hot conch fritters and an ice cold fruity cocktail and you're so golden.
DINNER
Culinary hotspots are aplenty here but these are the Big Three — AKA everyone's line-up for dinner (I added a few spots at the end)…
The Landing: This must-visit haunt is Owner Tracy Barry's charming hotel and restaurant. Dine in the beautiful garden or inside in the historic dining room of a captain's house from the 1800s (designed by India Hicks). Don't forget to pick up some afro head gear. And please do note — the Landing is closed Wednesdays!
Rock House: Wallace Tutt's hotel boasts delish eats and a stellar wine list. For dinner, request a table with sunset views across the bay or a romantic poolside setting.
Bahama House: The spot is new to the group, but stunning and quite popular with the regulars. 
Da Vine Wine Merchants: Don't be fooled by the name, this spot serves up the best sushi in all of the Bahamas.
Aqua Pazza: When you have the hankering for Italian fare, go here. The penne a la vodka and chicken parmigiana are the bangers.
The Dunmore: This is still my personal favorite for dinner and lunch as the ambience and cuisine are heavenly.
SNACKS
King Conch: We know everyone raves about Queen Conch, and their Conch salad is damn good, but it you don't want to wait 2 hours, go to King Conch. He's just off the ferry dock in a round wooden deck. If you are feeling adventurous, ask for the conch's pistols. Harbour Island men say, "It puts lead in your pencil." Ha!
Ramora Bay: We relished lip-smacking homemade deserts and the most stunning sunset here as music wafted through the air.
ACTIVITIES
Charter a boat at Valentine's Marina through the concierge service Conch and Coconut, and you can visit Piggy Island, Starfish Sandbar and swim with the sea turtles. 
You can also call The Other Side Hotel and make lunch reservations on this posh "glamping site" over on the adjacent island of Eleuthera. A 7-minute boat ride from Harbour, think rustic beach shacks, luxe tents and farm-to-table eats. Dreamy!  www.ontheos.com